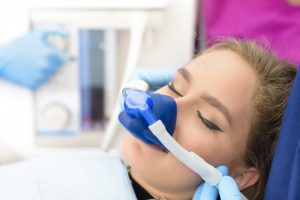 You've avoided going to the dentist for long enough. You know these visits are important, but you dread them because you tend to gag and feel uncomfortable in the chair. But you don't have to struggle with dental appointments! Although sedation dentistry is most often associated with treating patients with dental fear or phobia, it can also help other patients. Keep reading to learn more about whom sedation dentistry can benefit and how it can make your appointments more enjoyable.
Nervous or Anxious Patients
If you get scared at the thought of visiting the dentist or seeing needles, your dentist may be able to offer a sedative to calm your nerves. For more mild cases, nitrous oxide can take the edge off and replace your anxious thoughts with relaxation. This form of sedation begins working within minutes and can be adjusted to your ideal comfort level. More advanced cases of dental anxiety can be addressed with oral sedation, which is taken before the appointment begins so that by the time your visit starts, you feel perfectly peaceful.
Patients Undergoing Complex Treatment
Although local anesthetic numbs the area enough for most procedures, there are patients who benefit from sedation dentistry for more complicated treatment. For example, if you are getting root canal therapy or dental implants placed, you might need a little help putting your mind at ease. Sedation dentistry allows you to stay comfortable no matter what work your dentist needs to accomplish in your mouth.
Patients Who Can't Sit for Long Periods of Time
Is sitting still for a while difficult for you? Do you have a loved one with mental or physical challenges that make dental visits seem impossible? Dental procedures requires highly detailed work, which means you must remain absolutely still throughout your time in the chair, and sedation dentistry can be utilized for those who struggle to do so. With either nitrous oxide but especially with oral sedation, you stay conscious and responsive, meaning you can follow instructions, but you likely won't have much memory of your appointment, helping you have a more pleasant experience.
Patients with a Strong Gag Reflex
No one enjoys the sensation of gagging, and unfortunately, some patients do it quite easily. They may gag when the dentist or hygienist tries to use dental instruments inside their mouth, which covers basically every dental procedure. If you experience gagging, the good news is that sedation dentistry reduces this response, allowing your dentist to get the work done without causing you discomfort.
Sedation dentistry isn't just for people who are afraid of the dentist or getting work done on their teeth. Many patients can have a better, more rewarding dental experience through the use of sedation. Could you be one of them? Ask for sedation for your next visit!
About the Practice
With four dentists on staff, Smile Fitness Dental Centers has a unique wealth of knowledge and skills in the dental field. We approach each patient's case ready to customize treatment according to their individual needs. To assist various patients, we offer nitrous oxide sedation as well as oral conscious sedation. If you would like to take advantage of sedation dentistry during your next appointment, just contact Smile Fitness Dental Centers either via phone call or via our website, and let us know about your needs. We can arrange to make your visit as pleasant as possible.