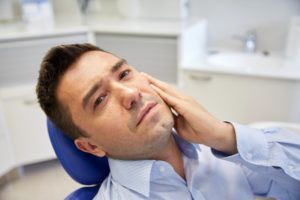 You went to bed feeling fine only to awake during the night with excruciating tooth pain! You can't imagine what happened to cause this, all you know is that you need relief as soon as possible. Sometimes same-day dentistry is difficult to come by, and that's why your team at Smile Fitness Dental Center offers convenient morning, evening, and Saturday appointments, which makes them the walk-in dentist that patients in Phoenix, AZ, trust.
Common Dental Emergencies We Handle
How do you know you need an emergency dentist? If you're unsure, we encourage you to contact Smile Fitness Dental Center at (602) 483-4055 and we'll assess your situation over the phone.
Here are some of the common dental emergencies we help with:
A knocked out (avulsed) tooth
Broken or lost dental restorations such as a filling or crown
Toothaches or dental pain, which could be indicating an infected or abscessed tooth
Soft tissue injuries
Chipped or broken teeth
Contact Smile Fitness Center First
Dental emergencies can be scary, especially if a tooth gets knocked out. However, before you head to a hospital emergency room, call or stop by our office first. Most hospitals are not equipped to manage dental emergencies and it will save you time and money to come to our office first.
Even if you've never been to our dental office before, you can walk in and be seen by one of our gentle and caring dentists as soon as possible. For your convenience, we can provide same-day treatment in most cases. Smile Fitness Dental Center is also offering a special for new patients to our office that includes an examination and x-rays for only one dollar!
Avoiding Dental Emergencies
Did you know that when you visit your dentist consistently every six months you may be able to avoid some dental emergencies? Your dentist screens for problems like tooth decay and gum disease during every examination. When you detect a cavity early on, you can treat it with a simple procedure like a dental filling before it becomes a more significant problem that results in infection.
Whether you are experiencing a dental emergency or it's time for your next cleaning and checkup, you can take advantage of our new patient special at Smile Fitness Dental Center!
Give us a call or stop by today to arrange your next appointment.
About Smile Fitness Dental Center
At Smile Fitness Dental Center, you will enjoy the expertise of not just one or two talented dentists, but three! Our dentists work together to provide comprehensive care for our patients and ensure they receive the highest quality dentistry possible, and we're here to help when things go wrong and you have an emergency.
To contact our dentists, call 602-483-4055 or reach them through our website.