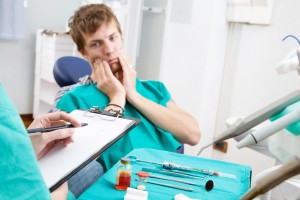 Whether it's a broken front tooth during a game of Sunday football or a throbbing molar that just won't let you get through your day, we know that dental emergencies don't only happen during regular business hours. Actually, sometimes it seems like they pick the most inconvenient times to pop up — but your Smile Fitness Center dentist in Glendale, AZ is prepared to help you at whatever time of the day, with expanded hours and same-day dental appointments!
Get Out of Pain — And On With Life — Sooner
When dental emergencies occur, too many people are left waiting until their dentist has an opening to relieve their pain. That could mean waiting several days for an appointment, or sometimes even as much as a week. Frankly, at Smile Fitness Dental Centers, we believe that's unfair — and unnecessary. Anyone who has ever experienced severe dental pain knows it's a traumatizing and life-interrupting experience. That's why we're proud to have a team that's dedicated to same-day appointments on standby to care for you and your teeth when you need it the most — so you can get out of pain and move on with your life as soon as possible.
When to Call for a Same-Day Appointment
If you or a loved one are suffering from extreme tooth pain or any other type of dental emergency, it's very important that you call Smile Fitness Dental Centers to see a dentist as soon as possible. Delaying treatment could cause far more serious problems — and you just don't want to risk it when it comes to your mouth. If you've experienced any of the following dental emergencies, do not hesitate to call our office immediately. We've got a team of same-day dentists standing by to help you as soon as possible.
Some examples of dental emergencies include, but are not limited to:
Broken, cracked or fractured tooth

Serious cuts on the soft tissues of the mouth — gums, tongue, lips and cheek

Partially or completely dislodged tooth

An object stuck between teeth

Tooth abscess

Continued bleeding that won't stop after 15 minutes of firm pressure
We're the Same-Day Dentists You Can Trust in Glendale, AZ
Many dental offices reserve same-day and emergency appointments to existing clients — but we're so passionate about the health of our neighbors' teeth that we welcome appointments from any families and individuals in Glendale, AZ and West Phoenix, AZ as well as the surrounding areas of Peoria, Scottsdale, Tempe, Paradise Valley, Sun City and nearby communities.
Give us a call now — we'll see you later today.