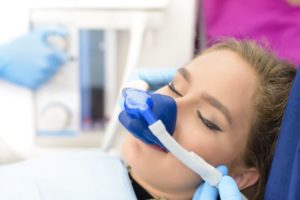 Does the idea of visiting the dentist make you uneasy? That's okay; you're not alone. Fortunately, sedation dentistry offers a gentle, effective way to get the care you need without the worry that keeps you away. Common options include nitrous oxide, oral sedatives, and IV solutions. In this post we'll look at these approaches.
Nitrous Oxide
Also known as "laughing gas," this is the most common type of sedation used in dental settings. Here are some of the advantages nitrous oxide offers:
It helps the patient to relax without impairing his or her coordination or cognitive skills. In almost all cases, he or she can drive, operate machinery, and perform other routine tasks once treatment is complete.
It's widely available. Most dentists in the United States are able to administer nitrous oxide in the comfort of their office. There's no need for IV equipment or machines to monitor the patient's vital signs.
For some procedures, a more comprehensive approach to sedation is required. That's where oral sedatives come into the picture.
Oral Sedatives
With this option, the patient takes an oral tranquilizer 20 minutes to one hour before the procedure. In most cases he or she will stay awake during treatment but be in a deeply relaxed state.
If you choose this option, then you will need someone to drive you home after the procedure is complete. Most people are able to resume their regular activities the following day.
IV Sedatives
This is the most comprehensive form of sedation used in dental settings. It's usually reserved for advanced procedures during which the patient will be asleep for over an hour.
IV sedation requires more preparation than other options. Your dentist will probably recommend that you forego eating and drinking the night before the procedure, that you wear loose clothing to the appointment, and that you avoid wearing jewelry or corrective lenses. You should take off the day after your appointment to allow your body time to flush the medication from your system.
Special Circumstances
Sedation dentistry is one of the safest medical procedures you can undergo. That being said, there are special considerations that apply to some people. Examples include:
Your dentist may use a lighter dose of medication to sedate a younger person or suggest another approach entirely.
Apnea sufferers. Sleep apnea is a condition in which the air passages constrict during sleep. Your dentist may recommend using a breathing tube to accommodate an apnea patient's special needs.
People with chronic health conditions. For example, people with congestive heart disease may require more intense monitoring during treatment.
You dentist will gladly discuss any concerns you may have about sedation. You should write down any questions you have and bring these with you to your consultation. Your comfort and well-being are always paramount.
Sedation dentistry is a great way to get the help you need minus the anxiety you could do without. When all is said and done, you'll look back and thank yourself for taking this important step in your life.
About the Author
Dr. Douglas M. Gordon has been practicing dentistry since 1971. He spent six years serving our country as an Air Force dentist before going into private practice. You can reach his office online or by calling (602) 483-4055.