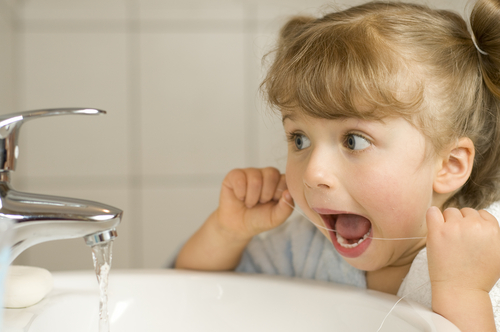 With big chairs, metal tools, and several loud noises, the dentist's office can often be a scary place for a child. Developing this fear early on, though, can be damaging – after all, establishing good oral hygiene habits at a young age is a crucial development, and one that could affect the look and health of their teeth for the rest of their lives. That's why many dentists practice children's dentistry, a specialized area of family dentistry that focuses solely on your little ones.
While exact ages may vary, your local dentists in Phoenix and Glendale strongly recommend that children come in for their first appointment when they're three years old. This children's dentistry appointment usually involves a thorough inspection of all the teeth they currently have, paying special attention to their natural development, as well as their periodontal health. (Of course, if you notice developmental problems with your child's teeth or if they suffer an injury in that area before they've reached three years of age, you should bring them in regardless.)
Many dentists also suggest that parents bring young children along with them to the dentist before their first appointment. This way, they can become familiar with the sights, sounds, tools, and the assistants that are involved with children's dentistry and that they'll be interacting with. Children are often rattled and upset by being put into situations that are new and unfamiliar; by introducing them to all the aspects of the dentist's office beforehand, they can feel at ease.
As your child grows older, your dentist will also be sure to teach them how to effectively care for their teeth through brushing, flossing, and other methods. Children's dentistry services also include dental sealants, thin, clear coatings that protect back teeth from damaging sugars, as well as fluoride supplements, which help strengthen tooth enamel.
Your local dentists in Phoenix and Glendale can provide your child with the caring and compassionate care they need in order to develop a great relationship with oral hygiene, thanks to children's dentistry services. We also serve the areas of West Phoenix, Glendale, and beyond.