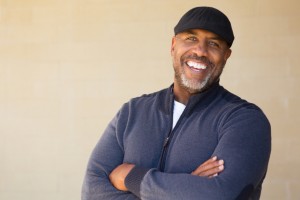 Smile Fitness Dental Centers have offered Glendale, AZ residents outstanding dental care since 1987, and patients trust us to provide superior service no matter how complex the prpcedure. We're proud to offer our patients the ability to complete the entire dental implant process from consultation to restoration all in either of our Glendale or Phoenix offices. In addition, our team has years of experience in dental implant tooth replacement. Dr. Florento and Dr. Santoro both have post-graduate study in implantology. Dr. Florento serves as a clinical instructor in restorative dentistry, and Dr. Santoro has training in oral and maxillofacial surgery and completed a fellowship in implantology. Our skilled dentists and team are her to provide the full dental implant tooth replacement process. No referrals. No visits to strange dental practices. No multiple consultations with various dental practitioners. Convenient, effective dental implant restoration starts with a consultation visit at Smile Fitness Dental Centers.

The Benefits of Dental Implants in One Location
Dental implants are typically placed in two phases: implant surgery and tooth replacement. In many dental practices, patients are referred to an oral surgeon for the placement of dental implant posts below the gum line. Patients may return to their regular practice for the attachment of the tooth replacement prosthetic, but some practices refer patients to a prosthodontist for the second phase of treatment. At Smile Fitness Dental Centers, we want our patients to experience the highest quality dentistry services in a comfortable, convenient practice. That means minimizing referrals by providing a wide variety of treatment options. Whether patients are replacing a single tooth or a full arch of teeth with an implant retained dental prosthetic, our skilled dentists and team complete the entire process from start to finish. Some of the benefits of one location implant procedures include:
The dentist knows your oral health history
Less anxiety for those who fear dental visits because they are familiar with the office
Less financial confusion shuffling insurance and payment documents between practices
Higher quality care with one dental professional assisting from start to finish
Convenience
Contact Us for Dental Implant Placement and Restoration
Some surgeons only place the implants and some general dentists only place your restoration, but at Smile Fitness Dental Centers, we offer dental implant placement and tooth restoration all in one comfortable, convenient office. Contact our Glendale or Phoenix offices to schedule your dental implant consultation today.