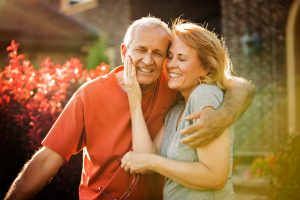 You've been in Phoenix for years and this is the first time you've taken a hot air balloon ride. You don't know why you waited so long, but you're glad you finally did it. You've always liked looking over the arid Arizona landscape, and this view gives you a whole new perspective. You can see the shapes of the rolling hills and the mountains in the distance. Just as you suspected, as soon as you get to your cruising altitude, your friends start taking out their cameras. The last thing you want is bunch of pictures of you and your missing teeth in front of this gorgeous landscape. However, you can now bring those teeth back thanks to dental implants in Phoenix. Here are 3 basic questions about how they can help replace your missing teeth.
1. What Are Dental Implants?
Dental implants  hold the distinction of being the only dental procedure than can replace the entire structure of a tooth. Everyone is familiar with the part of the tooth that shows above the gum line, but dental implants also replace the root. This root is key because not only does it firmly hold the tooth in your jawbone, but it also helps the overall health of your jaw by stimulating nourishing blood flow to the area. Dental implants are made of 3 basic parts:
A titanium root
A metal connector called an abutment
A porcelain crown
This root is implanted into your gum line and naturally bonds with the surrounding bone. The porcelain crown replaces the portion of the tooth above the gum line, and this is connected to the root using the abutment.
2. What is the Procedure Like?
The process to get dental implants starts with a consultation with one of our doctors at Smile Fitness Dental Center. They can examine your mouth and jaw in order to determine if you are a good candidate for dental implants. If you are, the procedure involves 3 basic steps:
The titanium root will be implanted in your jaw
You will be given 3-6 months to heal as well as allow the root to bond to your jaw
The last visit is when the crown will be placed into your mouth
The doctors at Smile Fitness Dental Center have received specialized training so they can complete the entire implant procedure in one location. Many practices would need to refer you to an outside oral surgeon. The amount of healing time you will need is completely dependent on your condition coming into the procedure. Dental implants are extremely versatile as they can replace a single tooth, anchor a bridge, or support a set of dentures.
3. Am I A Good Candidate?
Candidates for dental implants typically have decent overall health and an adequate amount of jawbone to support the new roots. If your jaw is too thin or brittle, we may need to perform a bone graft to make it viable for implants. The only way to make sure is to come visit us. You can bring your smile back with dental implants, so please don't hesitate to come see us today.