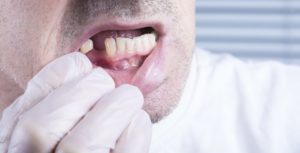 If you somehow end up with empty space in your smile, you're hardly alone; the American College of Prosthodontists estimates that roughly 178 million people living in the United States are currently missing one or more teeth. You'll want to fill in the empty space, of course, but how to do it? Should you get dental implants, or would a bridge make more sense in your case? Learning the advantages of each option will help you choose the restoration that's right for you.
The Advantages of Dental Implants
A dental implant is a small post (usually titanium) that's placed in the jawbone where it is gradually integrated with the tissue and anchored in place. When there's one tooth missing, it can be replaced with a dental implant that's topped with a crown.
An implant is designed to look, feel and function like a natural tooth as closely as possible. It provides excellent chewing power and stability; you can eat whatever you want, and your prosthetic tooth won't slip inside your mouth. Also, the stimulation from the post will stop your jawbone from deteriorating, and unlike with bridges, there's no need to put any strain on your natural teeth.
As far as aesthetics go, a crown supported by an implant is very lifelike; many people won't be able to tell the difference. Finally, a high-quality dental implant can last for decades – even a lifetime – with very little maintenance. Regular brushing and flossing will let you enjoy your new teeth for years to come.
The Advantages of Dental Bridges
A dental bridge is made of two or more crowns that hold a false tooth between them. The crowns rest on your natural teeth – called abutment teeth – which have had a small amount of enamel removed.
Compared to dental implants, getting a bridge is very quick and simple; there's no surgery required, and it'll only take a few weeks to complete the process as opposed to several months. As for the price, while the exact cost of getting implants and bridges varies from patient to patient, you'll usually end up paying less for a bridge; also, bridges are more likely to be covered by dental insurance than implants.
Which is Right for You?
Every patient has a unique set of circumstances that affects the kind of dental care they can get. For instance, someone with a full, strong jawbone can probably get dental implants without any problem, but a patient who has suffered bone loss might need to get a bridge instead. A patient's financial situation and overall health also need to be taken into account.
If your grin has a gap, talk to your dentist in Phoenix as soon as possible. The sooner you choose the right kind of restoration, the sooner you can look forward to repairing your smile and enjoying life to the fullest again!
About the Practice
Here at the Smile Fitness Dental Center, our team has been bringing high-quality dental care to Phoenix families for over three decades. If you've lost one of your permanent teeth, we can offer dental implants and bridges that will have you beaming with confidence again. To schedule a consultation, visit our website or call (623) 849-0477.