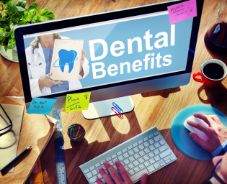 Just about everyone would agree that time flies. It seems like it wasn't very long ago that we rang in the new year, but here we are and it's already June! While you may think that the next new year is a long way off, it'll be here before you know it. And since most dental insurance expires on December 31st, you'll be losing your benefits sooner than you think as well. To avoid missing out on what is essentially "free money" for seeing a dentist in Phoenix, find out how to maximize your insurance benefits and achieve a healthy, beautiful smile – with little to no out-of-pocket cost!
What Does Insurance Cover?
First, keep in mind that there are countless different insurance plans, so always check your specific benefits. With that said, below are some average coverage percentages for many common procedures:
Cleanings, X-Rays, and Exams – These services are considered preventative, so they're often covered at 100%.
Gum therapy – "Deep cleanings" are a special type of cleaning for patients with gum disease and are usually covered at 60%-80%.
Fillings and Root Canals – Many plans cover fillings and root canals at 50%-80%.
Dental Crowns and Bridges – Crown and bridgework is typically covered at 50% -70%.
Use Your Insurance To Prevent Problems Instead of Treat Them
Why do insurance companies usually cover preventative care at 100%? They know that people who take advantage of these services generally need less dental work than those who don't. Also, the earlier problems like cavities or gum disease are found, the easier and less expensive they are to treat.
In many cases, just two checkups and cleanings a year are enough to maintain good oral health. However, more cleanings may be covered during pregnancy or for patients who have gum disease, diabetes, or cancer. Also, check to see if your plan covers professional fluoride treatments for all ages, since they're a great way to strengthen the enamel and prevent cavities.
And don't forget, since it's already June, it's a good idea to schedule checkups for the whole family sooner rather than later. If any additional treatment is necessary, you'll have plenty of time to schedule it before your benefits expire.
If you're lucky enough to have dental insurance, you may as well take advantage of it. By scheduling earlier in the year instead of waiting until the last minute, you can!
About the Author
Dr. Douglas Gordon has many decades of experience as a family dentist in Phoenix and is a graduate of the New York University College of Dentistry. He works with many different insurance plans to make dentistry accessible to as many people as possible. If you have any questions about insurance or would like to schedule an appointment, he can be reached via his website.