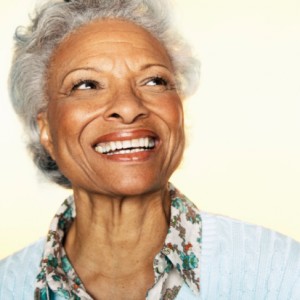 Smile Fitness Dental Centers offer great news for Peoria, AZ residents struggling with tooth loss – dentures are more comfortable and secure than ever. We've all seen the comic representations of denture wearers who look as though they've inserted horse teeth into their mouth, or people struggling to speak or chew with ill-fitting dentures. Thanks to improved dental technology, our Glendale dental practice can help patients replace any number of teeth with a comfortable, beautiful full or partial denture. Sun City, AZ residents, your friendly Smile Fitness Dental Centers staff is here to help you reinvent your bite. Call to schedule a tooth replacement consultation today.

Partial Dentures
For patients missing teeth, crown and bridge or dental implant treatment is ideal. For those unable to afford it, partial dentures allow our team to preserve remaining teeth and replace the missing teeth with a prosthetic. Partials are removable, and clasp securely to surrounding teeth.
Full Dentures
Traditional dentures can replace upper or lower teeth. Replacement teeth are secured to a base that resembles gum tissue. Dentures have gotten a bad reputation for being uncomfortable, and frequently slipping during wear. However, well-fitting dentures stay in place using suction alone. Regular maintenance and adjusting will make your dentures look and fit better. Removable dentures have been used for years to restore patients' smiling, speaking and chewing abilities, and our Peoria area practices still fabricate dentures to give our patients full, confident smiles.
Implant-Supported Dentures
As a more permanent tooth replacement option, implant-supported dentures are a great choice. Dental implants provide a natural look and feel. Patients interested in dental implants will need to undergo a minor surgical procedure to place the titanium implant posts below the surface of the gums. After placement, the patient waits several months for the implants to bond to the jawbone. Once surgical sites are ready, our dental team will place a customized denture. The new smile can be cleaned and maintained like natural teeth with regular brushing, flossing and dental checkups. Patients can speak and chew with confidence.
Find Out More About Getting Your Smile Back
Every smile is unique, and your treatment plan should be too. Don't wait another day to schedule your denture consultation with Smile Fitness Dental Centers. Let us help you get your smile back. Contact our Glendale or Phoenix, AZ offices for more information.