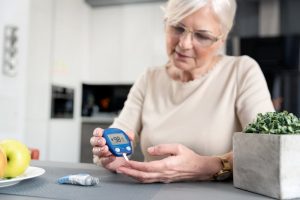 You have a lot on your plate. In addition to the normal stresses of work and home life, you also have diabetes, which means you worry about your blood glucose levels as well. Unfortunately, you're far from being alone. About 34.2 million Americans (about one in ten) already have diabetes, and 88 million American adults have prediabetes. That's about one out of every three adults in the US!
Along with diabetes comes the risk of many other diseases, such as heart, kidney, and eye disease, just to name a few. One related issue that many diabetic patients forget about is gum disease. In this post, you'll learn more about this condition, how diabetes and gum disease are related, and what you can do about it.
Why Gum Disease Matters
With so many other health issues to worry about, you may be wondering why you should care whether your gums get red and puffy. But the truth is that gum disease, without proper treatment, can lead to permanent, severe damage to your smile. Advanced periodontitis eventually ends with loss of the jawbone and loss of teeth. Without intervention, what starts out as simple gum irritation called gingivitis can progress and wreak havoc on your smile and your overall health.
How Gum Disease Affects Diabetes (and Vice Versa)
Diabetes and gum disease have a complex relationship in which failure in managing one of these diseases drastically increases the likelihood of the other. In other words, patients who do not manage their diabetes properly are at a higher risk of contracting gum disease because the response to inflammation is heightened in these individuals. On the other side of the coin, when gingivitis turns into periodontitis, the inflammation-causing bacteria can throw blood sugar levels out of control. In fact, immediately after gum disease therapy, diabetic patients can experience an immediate change in blood glucose levels.
How You Can Control Gum Disease
The best way to approach gum disease is to prevent it entirely. Daily oral maintenance, which includes brushing twice and flossing once, stops bacteria and plaque from building up near the gumline. Regular visits to your dentist's office also keep inflammation-causing bacteria under control. In addition, as a patient with diabetes, you need to make sure your blood sugar levels stay in a healthy range every day. While poorly managing your diabetes increases your risk of gum disease, controlling your condition goes a long way in preserving your teeth and jawbone, giving you a strong smile.
In the end, these two conditions don't have to derail your health. If you struggle with gum disease, it's worth addressing sooner rather than later. You can take the necessary steps to keep each condition under control and lead a positive, healthy lifestyle.
About the Practice
At Smile Fitness Dental Centers, we are privileged to have four experienced, highly trained dentists on staff. Although we come from different backgrounds, we all have a deep passion for helping patients achieve optimal wellness. We treat patients with services ranging from routine checkups all the way through tooth replacement. If you have gum disease and need to have it treated, you can schedule an appointment with one of our dentists by contacting our team through our website or by calling 623-849-0477.