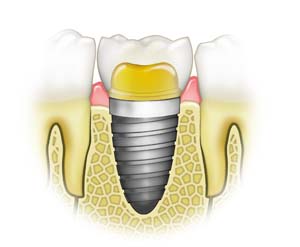 Losing a tooth can be a devastating blow, both for your oral health and your self-confidence. Many patients find it hard to even leave the house when they have unsightly gaps in their smile, much less interact meaningfully with friends or colleagues for fear of being humiliated. Even worse, it often leads to an increased risk of gum disease and additional tooth loss. While restorative tools such as dentures and bridges have been available for quite some time, their purported bulkiness and unnatural feel leaves many patients feeling unsatisfied. Thankfully, there's another choice: dental implants. With the help of dental implants, Peoria patients can have their full smiles seamlessly recreated and their enthusiasm resurrected!
The process is simple – first, your local Peoria dentist will place a small, titanium post into the appropriate empty socket. This will serve as your tooth's new root, keeping your jawbone healthy and full.
Then, once an appropriate amount of time has passed for the new tooth root to fuse with your soft tissue, you'll return to your local dentist's office so that they can place a beautiful, customized crown atop the post, completing the process.
While the process differs from practice to practice, your local dentists in Peoria can carry out the entire dental implants procedure in their office, including both the surgery and the creation of your new restoration. You'll be able to enjoy a revitalized smile again sooner than you think!
Contact your local dentists today to schedule an appointment! Peoria patients are welcome to visit either our Glendale or Phoenix office. We can't wait to help your teeth become healthier and happier than ever before.