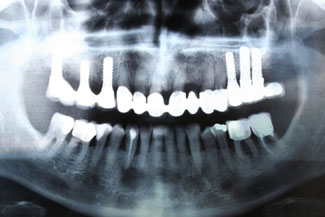 There are few dental injuries more severe or damaging than losing a tooth. Unsightly gaps in your smile can lead to reduced self-confidence and enthusiasm, potentially hurting your professional and personal relationships – not to mention an increased risk of gum disease and additional tooth loss. In the past, patients have often had to rely on stable but clunky restorative techniques such as dentures and partials; while these may work for many smiles, the lack of tooth roots often begins to cause the soft tissue and bone to deteriorate, leading to a hunched appearance.  Thankfully, there's a relatively new and wildly effective tooth replacement option available now: dental implants. With the help of dental implants, you can regain your full smile and oral health so seamlessly that it will be like you never lost a tooth in the first place!
While available services will vary from practice to practice, your local dentists in Phoenix are happy to offer dental implants to patients at their local office. The process is simple – first, you'll undergo a comprehensive exam in order to ensure that you're a viable candidate for dental implants. Then, one or more small posts will be carefully placed in however many empty sockets you need filled; this depends on your unique situation, of course.
Then, once your new tooth roots have had time to successfully fuse with your soft tissue, you'll return to our office. Your local dentists will then place a beautiful, customized crown atop each post, completing your treatment.
Dental implants are sturdy, durable, and incredibly natural looking. No one will be able to tell you've had any work done, and the best part is that your local dentists can carry out the entire procedure at their office from start to finish – no specialists or outside surgeons required!
Contact our Phoenix office today to schedule an appointment. We also have an office in Glendale and are happy to welcome patients from Peoria and West Phoenix. We'll be sure to give you something to smile about!