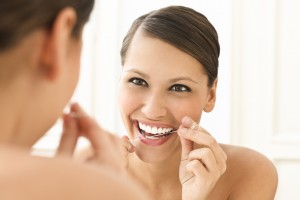 How regularly do you floss your teeth? Tell the truth—we promise not to say anything. As dental health professionals, the dentists and their staff at Smile Fitness Dental Center in Glendale, AZ, would like all of their patients to floss at least once a day. What time of day really doesn't matter. Some people are too tired at night, so they floss in the morning. Others are too rushed in the morning, so they floss at night. Still others—like busy stay-at-home moms who can only find two minutes of quiet in the middle of the day—floss after lunch. The timing is irrelevant, as long as you floss every day. And to make sure that you're flossing correctly, the Glendale dentists at Smile Fitness Dental Centers would like to offer you a few tips.
How to Floss Properly
Whether you prefer waxed or non-waxed, mint or another flavor, dental floss or dental tape are more aspects of flossing that really don't matter much. The choice is yours.
The first important step is to be sure you have enough floss. So, tear off about 18 inches—this way you'll be able to use a clean portion of floss between each pair of teeth. Wind most of the floss around your middle fingers and leave about two or three inches between your hands. Grab this section with your thumbs and forefingers.
Then, carefully guide the floss between two teeth. Actually, we recommend starting behind one of your last teeth, so you can move methodically along each arch and not miss any teeth.
As you press the floss against each tooth, gently move the floss up and down and back and forth, taking care to floss all the way down to the gum line. Be careful, however, not to snap the floss against your gum tissue, and be sure to floss in between each pair of teeth along both arches.
Why is flossing important?
Many people think that flossing only removes trapped particles of food from between teeth. That's true, but equally important is the fact that flossing removes plaque buildup. Although brushing removes plaque from the surface of your teeth, only flossing can get the plaque that hides in between them. And plaque that isn't removed may eventually lead to periodontal disease.
Call Our Office Today
Be sure to brush twice a day and floss once a day. In addition, schedule twice yearly dental checkups with the Glendale dentists at Smile Fitness Dental Centers in Glendale, AZ, and Phoenix, AZ. We look forward to serving you.