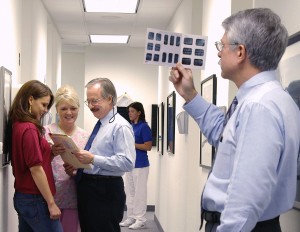 Choosing a dentist or other healthcare practitioner doesn't have to be difficult. You just need to find the provider who offers the services you need, when and where you need them, and makes you feel welcome. You may be thinking, easier said than done. At Smile Fitness Dental Center, we have provided Glendale, Peoria and surrounding neighborhoods outstanding preventive, cosmetic and restorative dental care for almost three decades. Our trusted practitioners are proud to say they have treated multiple generations of smiles in Glendale and Phoenix, AZ. We are locally owned private practice, owned and operated by dentists who care about you. Our practice is dedicated to providing quality service to every patient. Your family deserves excellent general dentistry in Glendale, Peoria and Phoenix, and Drs. Douglas Gordon, Steven Green, Richard Flottman and the entire dental team are ready to offer you only the best dental care. Call to schedule your appointment today.

The Dentists that Glendale, AZ Rely Upon
We guarantee you'll feel like family from the moment you walk through the doors of Smile Fitness Dental Center. The knowledgeable dentists and staff listen to your concerns and questions, and take the time to help you understand your dental health and treatment options. We treat you the way we would want to be treated at the dentist's office, and we give you the level of care we expect. That's why Glendale, Peoria and Phoenix residents rely on us to provide quality dental care. We offer a wide array of preventive, restorative, and cosmetic dentistry as well as more advanced services such as dental implants and wisdom tooth extractions.
Services that Exceed Every Expectation
Our extensive services are available to Glendale and Phoenix residents 6 days a week. We offer extended weekday hours to accommodate our patients with traditional work schedules, and both of our offices are open from 8 am to 1 pm on Saturday. Because we know that you can't always plan for dental care, we have same day and emergency dental appointments available when unforeseen dental disaster strikes. We offer same day dental treatment for patients who are experiencing abscessed, broken or cracked teeth, foreign objects lodged in teeth, and soft tissue lacerations. Unlike most dental practices, our emergency care isn't available when we can squeeze you in. Six days a week, we have an emergency dentistry team available to help you immediately, and we have a dentist on call 24/7 for our patients of record.
Financing dental care for your whole family can be a stretch, but our offices will help you make the most of your insurance benefits and plan to finance any dental treatment you may need. We work with Citi Health Card to offer low or no interest financing for qualifying patients, and our patient specials make it easy to afford your dental care. Current patient specials include our patient favorite Lifetime of Smiles Program. This program allows your whole family to lock in low rates for life on your regular checkups and cleanings by meeting just a few qualifications. Additionally, children aged 4 to 16 who participate in the program and receive regular 6 month checkups will receive 10% off all future dental treatment, and 20% off exams, x-rays and cleanings for their whole life. There's no better way to invest in your family's future smiles.
Call Your Friendly Dentist Serving Glendale, Peoria, Phoenix and Beyond
Whatever your dental health care needs, let the friendly dental team at Smile Fitness Dental Center put a smile on your face. Our Glendale and Phoenix, AZ locations are open six days a week, so call to schedule your convenient appointment today. Our offices welcome patients from surrounding areas including Sun City, Peoria, Glendale and West Phoenix.