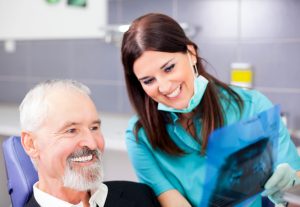 As the holiday season commences, give yourself the perfect gift with a confident, complete smile using dental implants. Dental implants in Phoenix allow you to permanently restore your confidence and your smile with the most preferred solution to treat tooth loss. Offering over a 95 percent success rate, you will enjoy a lifelong solution that closely mimics the appearance and function of natural teeth. With dental implants, you will smile brightly throughout the holiday season with a restored sense of confidence with a complete smile.

Regain Your Confidence with Dental Implants
Dental implants will permanently replace the root and crown of missing teeth. Dental implants can be used to treat all cases of tooth loss—no matter if you are missing one tooth or all your teeth. Using a multi-phased treatment process, you will benefit from improved oral health while regaining a complete smile.
To benefit from dental implants, you will need to undergo an initial consultation to ensure you are a candidate for the procedure. In most cases, if you have healthy gums and adequate bone density to support the implants, you can benefit from dental implants.
The first phase of treatment involves surgically inserting titanium posts into the jawbone to replace the roots of the missing teeth. The implants posts are biocompatible so your jawbone will fuse to the posts for a strong, lasting foundation for the replacement teeth.
After your jawbone has healed, abutments are attached to the implant posts. Abutments are needed to anchor the replacement teeth to the implants while allowing the gum tissue to heal correctly for a natural look. Finally, the restoration process is performed to attach the prosthetic teeth to the implants.
When your treatment phase is completed, you will have a new, complete smile that will last a lifetime. You will speak and smile with confidence knowing you have a natural-looking smile that will stay firmly in place.
Benefit from Dental Implants Today
In addition to offering a lifelong solution that looks and feels closely to natural teeth, there are various benefits that come with dental implants. Of the greatest benefit is the fact you will protect your oral health. Dental implants stimulate the bone to stop bone loss. This protects your remining natural teeth and facial structures from damage caused by decreased bone density.
Dental implants improve your oral functions with a natural-feeling solution that is convenient. You will not have to use any special cleaners, messy adhesives, or deal with the discomfort or slipping like that caused with other tooth replacement options. With dental implants, you will gain a confident, and complete smile using the best advancements in dentistry.
If you are ready to give yourself the gift of confidence with a complete smile, you need to contact Smile Fitness Dental Centers to schedule a consultation. We will determine if you are a candidate for dental implants to create a customized treatment plan. Restore your smile for the holidays with dental implants. Contact our office today to schedule your consultation. Do not forget to ask about our dental implant special for added value.