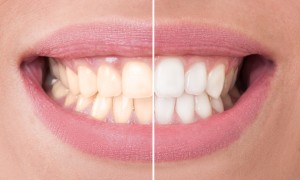 You don't smoke, and yet, your teeth are dark and stained. Can you prevent these discolorations? Drs. Gordon, Green, Flottmann, Florento and Santoro, Glendale, AZ dentists at the Smile Fitness Dental Center, recommend avoiding certain foods that soften and/or discolor tooth enamel for a smile that looks, dull, dark and old.
Even good nutrition can cause problems
Many foods stain fabrics. Think about red wine on a white tablecloth or blackberry jam on a beige blouse. Now picture the same foods on your teeth. Believe it or not, tooth enamel, while hard as a rock, is still porous and traps organic material from what we eat and drink. This extrinsic staining is amplified by super-dark pigments in food and beverages and by high acid content.
So, even though certain drinks, such as cranberry juice, or foods, such as tomatoes, benefit our organ systems, provide vitamins, minerals and anti-oxidants, and simply taste great, they are not tooth-friendly when consumed in excess. Limiting some menu selections is best. Some should be avoided altogether.
Foods and drinks to avoid
The American Dental Association recommends avoiding sugary sodas, sports drinks and brightly colored candies. Besides containing pigments that adhere to tooth enamel, sodas have a high acid content that literally etches tooth surfaces, making them susceptible to discoloration and to cavities, too.
Whenever you or your children have high-sugar/acidic/colored foods or drinks,  rinse your mouth with water immediately, and brush and floss as soon as possible.
Foods and drinks to limit
Dr. Gordon and his colleagues believe that reducing the amount and frequency of darkly-pigmented and high acid beverages and foods keeps smiles bright and younger looking. Common foods to limit include:
Tomatoes and tomato-based pasta sauces
Coffee, black tea, and red wine
Strawberries, blueberries, blackberries, raspberries and beets ( These are all super-pigmented.)
Dark soy sauce and curry
While nutritionally, none of these foods are detrimental, tooth color suffers with repeated exposure. If you do consume them occasionally, rinse your mouth, and brush your teeth. Use a straw to drink iced coffee or tea so the dark liquid bypasses front teeth.
You may pair high acid foods with cheese and/or milk to buffer the acidity. Fibrous fruits and vegetables, such as apples and celery, counteract stains from curry and soy products. And, of course, drinking plenty of water washes tooth surfaces, hydrates your body and stimulates saliva production.
Dealing with existing stains
Whitening toothpastes help reduce light stains. Some over the counter whitening swabs and gels prove helpful, but many unsupervised whitening methods risk  gum and tooth sensitivity.
Darker discolorations respond well to professional teeth whitening from skilled dentists such as Dr. Gordon and the other doctors at Smile Fitness Dental Center. This dental practice offers Zoom! in-office whitening and also at-home whitening. Both methods feature professional-strength hydrogen peroxide gel that lifts out stains from tooth surfaces, leaving teeth up to 8 shades brighter.
Can you improve your tooth color?
Set-up a cosmetic dentistry consult at Smile Fitness Dental Center. Your Glendale, AZ dentist will examine your teeth and gums and make a care plan suited to your oral health and aesthetic goals. Contact the office today!