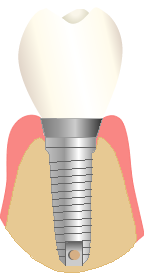 Out of all the dental injuries a person can experience in their lifetime, losing a tooth is often considered one of the most serious. After all, it can have adverse effects the rest of your smile, causing your remaining teeth to shift and twist in an effort to fill the empty space. Your risks of incurring periodontal disease and additional tooth loss are considerably heightened. And of course, there's the fact that having unsightly gaps in your smile can hurt your self-esteem. Thankfully, dental implants are an available option for patients in Glendale and beyond who have been unsatisfied by more traditional means of tooth replacement, such as bridges or dentures. A sturdy and beautiful tool, dental implants can give your smile the stability it's been lacking.
How does the dental implant process work?
First, you'll undergo a comprehensive exam, during which it will be determined whether you're a viable candidate for dental implants. Then, you will need to undergo the placement of a small, titanium implant in the empty socket, which will serve as the tooth's new root, keeping the jawbone healthy. While this process will differ from practice to practice, your local Glendale dentists perform every step of the dental implants procedure in their office, helpfully simplifying your care.
Then, once an appropriate amount of time has passed for your new implant to successfully merge with your soft tissue, you'll return to the office so that we can place a beautiful, customized crown on top of it. This will effectively complete your new look! Once again, you can enjoy the sturdiness, stability, and natural look of a full smile. What could be better?
Contact our Glendale office today to schedule an appointment! Your local dentists also have an office in Phoenix and are happy to welcome patients from Peoria and West Phoenix.