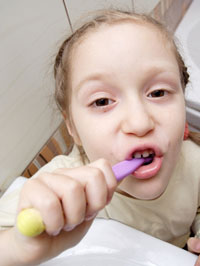 At its core, family dentistry is about making dental visits easier for a family that includes both adults and children. It can be frustrating for parents to have to find both a general dentist for themselves and a pediatric one for their kids. When working with a dentist who offers family dentistry, these parents can get all the services they're looking for in one convenient location. These dentists are skilled at handling patients as young as four years old, and they're able to adjust their care as children grow older to accommodate their changing needs.
While family dentistry services can vary from practice to practice, our dentists in Phoenix and Peoria focus on regular check-ups and establishing good oral health routines. After all, it's important to start practicing these habits at a young age, and it can help eliminate some of the anxiety that kids feel when faced with going to the dentist. In addition, family dentistry often includes preventive treatments so that children and their patients can prevent all kinds of unpleasant conditions, from bruxism to TMJ to gum disease and everything in between.
Dentists who practice family dentistry can also provide helpful tools like fluoride supplements or dental sealants for children. These are effective and easy ways to keep teeth healthy and protect them from decay.
The beginning of a new year is a perfect time to get you and your family on the path to proper and effective dental care. If more than six months have passed, call your local family dentist to set up an appointment. Our offices in Peoria and West Phoenix can provide you with quality family dentistry care as well. We also serve the rest of Phoenix, Glendale, and surrounding areas.