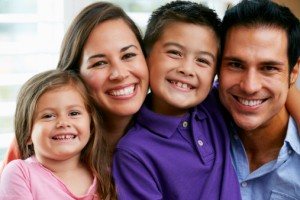 Peoria, AZ Dentist
The basic oral care everybody needs is available with excellence at Smile Fitness Dental Centers. A general dentist provides the consistent dental care you need to maintain the best oral health for you and your family. In Peoria, AZ, as well as Glendale, AZ, people turn to Smile Fitness Dental Centers for general dentistry that is professional and dependable.
General Dentistry for You and Yours
The cornerstone of general dentistry is the dental checkup. In keeping with the recommendation of the American Dental Association, our dentists would like to see you and each member of your family every six months for dental checkups. With this regularity, we can more carefully monitor your overall oral health and notice any concerning changes sooner.
Of course, at every dental checkup we'll clean your teeth and remove any plaque buildup, examine your gums for any early signs of periodontal disease and take digital x-rays to uncover any hidden spots of tooth decay. We will also inspect your soft tissues for oral cancer. When caught early, oral cancer—like periodontal disease—is treatable.
General Dentistry for the Kids
When you make Smile Fitness Dental Centers in Peoria and Glendale your home for general dentistry, you can count on us also to provide the best of dental care for the youngest members of your family, too. We'd like to begin seeing your children around the time that they turn three years old. Like you, they should have checkups twice each year, so we can clean their teeth and keep tabs on their developing oral health. Our dentists may also recommend fluoride treatments and dental sealants to further protect their teeth from decay.
Call Our Office Today
To schedule an appointment with the general dentist Peoria, AZ, and Glendale, AZ, turn to for exceptional care, call the office of Smile Fitness Dental Centers today. We also serve patients from Sun City, Paradise Valley, Phoenix, Scottsdale and Tempe.