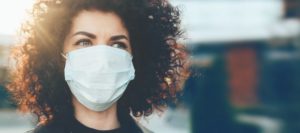 COVID-19 is an easily transmitted virus that currently has no cure and can infect anyone. However, it can be very dangerous and even life-threatening for at-risk patients. The Centers for Disease Control and Prevention have identified factors like older age, lung disease, heart conditions, and a weakened immune system that can increase your risk of getting seriously ill from the coronavirus. If you or a loved one are at a higher risk of complications from COVID-19, its essential that you take extra precautions to stay safe. Your Phoenix dentist shares five important tips for staying healthy in your everyday life during the COVID-19 pandemic.
1.) The Three Best Ways to Protect Yourself From COVID-19
While there is currently no medicine that can treat or prevent COVID-19, there are several simple yet effective measures you can take to protect yourself and others. According to the Centers for Disease Control and Prevention, the top three things you can do are:
Stay home as much as possible to limit your exposure.
Practice social distancing by staying at least six feet apart from others out in public.
Regularly wash your hands for 20-30 seconds or use a hand sanitizer with 60% alcohol.
2.) Staying Healthy While Getting Groceries
If you can, have your groceries brought to you via contactless delivery. Other low-exposure options include grocery drive-thru or pick-up services. When shopping in person, wear a mask and practice social distancing. Some stores even offer shopping hours for at-risk customers exclusively.
3.) Precautions for Ordering Takeout
Similarly, the best way to avoid jeopardizing your health while ordering takeout food is to utilize services like contactless delivery and drive-thrus. If you choose to support a local restaurant but need to go inside to pick up your order, remember to wear a mask, spend as little time as possible inside, and avoid touching high-traffic surfaces.
4.) Safely Getting Your Prescription Medications
If you need to pick up a prescription from your pharmacy, ask if they offer home delivery or curbside pickup options. Alternatively, you can use a mail-order pharmacy service and have your medications sent directly to your home. You can call your physician and request that your prescriptions are sent to a pharmacy that offers one of these options.
5.) Call Your Dentist or Physician About Your Upcoming Appointment
Do you have an upcoming doctor or dental appointment? While some visits are necessary for your ongoing health, others can be rescheduled or changed to a virtual visit. Call your dentist or physician and ask whether you should still come in for your appointment or not. If you do need to enter their practice, rest assured that they are working tirelessly to maintain a safe and germ-free environment for you.
For the sake of our entire community, we should all be doing everything we can to lower our risk of COVID-19. Thankfully, a little forethought and a few simple tips can go a long way in keeping you safe and healthy in your everyday life during the pandemic.
About the Practice
At Smile Fitness Dental Center in Phoenix, AZ, we believe that your smile is an essential part of your personality, quality of life, and overall health. Our talented team of highly trained dentists offers a wide variety of services using state-of-the-art dental technology to keep your pearly whites gleaming and your oral health on track. In these unusual times, we continue to put the best interests of our patients first by closely monitoring the COVID-19 pandemic and adjusting our safety protocols accordingly. If you have any questions or concerns, feel free to contact us via our website or at (623) 849-0477.