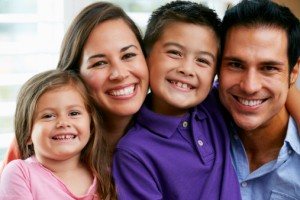 Receiving proper and professional dental care is important not only for you, but for your entire family, too. At some point your kids or spouse will need the best dental care, and you can find it here at Smile Fitness Dental Centers in Glendale, AZ and Phoenix, AZ. Providing excellent family dental care for you and your family is where we excel.
Family Dentistry Services Under One Roof
If it's a variety of professional dental services you're looking for, you have come to the right place. At Smile Fitness Dental Center, we provide an assortment of general dentistry options with compassion and a gentle touch you won't find anywhere else. We strive to prevent dental problems before they start. What does this mean for you? You save time and money while creating a healthy smile for years to come.
Everyone deserves an exceptional smile. Your Glendale, AZ dentist will explain your options and help decide the best path to optimal oral health.
Our dentistry services include the following:
Cosmetic dentistry
General dentistry
Preventative dentistry
Restorative dentistry
Sedation dentistry
Dental implants
We are happy to offer same-day and next-day appointments to families and busy professionals. If you experience any of the following, it's recommended you schedule a same-day or next-day appointment:
Broken or cracked tooth
Lacerations to soft tissues, including the gums, cheeks, lips, and tongue
Partially or completely dislodged tooth
An object stuck between teeth
Abscess
We also offer emergency dental appointments. Our Emergency Dental Team is dedicated to handling your dental emergencies six days a week. This is all they do, and their level of expertise is unmatched. From severe toothaches to fractured teeth, our team swings into action the moment you call.
Schedule An Appointment
To schedule an appointment or to speak with a friendly staff member, please call our offices located in Glendale, AZ or Phoenix, AZ. We also serve the surrounding areas including Sun City, Tempe, Scottsdale, Paradise Valley and beyond.