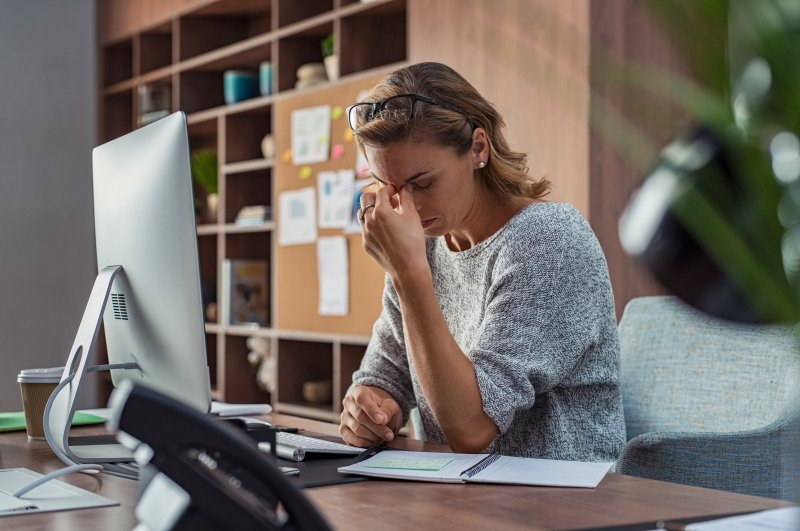 Stress. In small doses, it can help boost your brainpower, motivate you to succeed, and even increase your immunity. Prolonged, chronic stress, however, can lead to high blood pressure, fatigue, anxiety, and even heart disease. Plus, it can wreak havoc on your teeth and gums, significantly taking a toll on the appearance of your smile. To prevent that from happening, keep reading to learn about the link between chronic stress and oral health (and a few must-know prevention tactics!).
How Chronic Stress Can Negatively Impact Your Oral Health
If left unchecked, chronic stress can take a significant toll on your oral health. To start, the stress-related hormone, cortisol, has been linked to periodontal disease, which can result in everything from inflamed gums to tooth loss. Additionally, a study reported by the Journal of Periodontology found that 56% of participants who suffered from chronic stress neglected to brush and floss consistently. Plus, they were significantly more likely to engage in poor dental habits, like smoking. So, it's not surprising that patients with unmanaged, long-term stress are at a higher risk of everything from cold sores and tooth decay to gum disease and teeth grinding.
6 Important Prevention Tactics
To keep your teeth and gums in pristine condition, prevention is paramount. With this in mind, here are a few smile-saving best practices to implement today:
Practice relaxation techniques, like meditation, when stressors arise.
Eat a vitamin-rich diet.
Get enough sleep.
Exercise regularly.
Brush twice a day and floss daily.
Visit your dentist bi-yearly for a dental checkup and cleaning.
How Your Dentist Can Help
Your dentist is your greatest ally when it comes to keeping your smile happy, healthy, and thriving. To start, they provide thorough exams and refreshing cleanings designed to catch dental problems, like gum disease, in the early stages and prevent issues from developing in the future. Additionally, if you are struggling with a stress-related oral health concern, like teeth grinding, they can provide you with a discreet, comfortable nightguard to protect your teeth. That way, your smile is safe while you determine the best, most effective stress-relief tactics that work for you.
Managing stress can be difficult, especially with family demands, work pressure, and everything else you juggle daily. Fortunately, your dental team can make sure your smile doesn't sustain lasting damage by providing essential preventive care and effective restorative treatment. Get in touch with your dentist today to ensure stress doesn't take a toll on your smile!
About the Practice
At Smile Fitness Dental Center, preserving your beautiful smile is our top priority. That's why we are proud to have multiple skilled dentists, a hand-selected team of smile enthusiasts, and a comprehensive array of services right here at our Phoenix dental practice. Whether you are interested in preventive care or are already experiencing the effects of chronic stress on your teeth, don't hesitate to visit our website or give us a call at 623-849-0477.