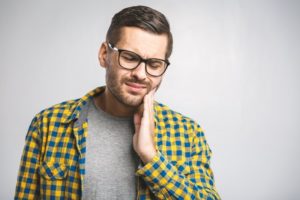 Your tooth feels sensitive to your coffee in the morning; however, you're unsure if it's the right time to contact your dentist. After all, ibuprofen seems to manage the discomfort. The next thing you know, you are waking during the night with severe tooth pain. Now you're sure it's time to call the dentist, but you wonder if you could've avoided the pain and these waking hours during the night? Here's what your dentist wants you to know about tooth pain.
What's Causing My Tooth Pain?
Some different situations can cause your tooth to hurt. There are also different levels of tooth pain. Minor sensitivity may not cause you to call your dentist; however, it may be an excellent time to schedule an examination to detect any concerns early on before they become more significant problems.
Here are some of the situations to be aware of that could be causing your discomfort.
A Cracked or Fractured Tooth
If your tooth is cracked, it can cause sensitivity anywhere from minimal to severe. Even if the discomfort is marginal, your tooth should be repaired in order to protect it from further damage or infection. A dental filling or crown may be able to restore your tooth depending on the severity of the fracture.
A Toothache
A toothache that is constant and not responding to medication such as ibuprofen could be indicating an infection in your tooth. Dental infections will not resolve on their own, so it's important to be proactive about contacting your dentist for treatment in order to prevent the infection from affecting neighboring teeth. An infection left untreated often results in tooth loss.
Root canal therapy can eliminate a tooth infection and also preserve your natural tooth. Your dentist will remove the diseased tissue from inside your tooth and then strengthen it with a dental crown to ensure you have all the function you had before your infection.
Contact Your Dentist
If you are experiencing dental pain, even if it is only minor sensitivity, contact your dentist today to schedule an appointment.
About Smile Fitness Dental Centers
With convenient morning, evening, and Saturday hours, your team at Smile Fitness Dental Centers is ready to serve you, and we welcome emergency patients even if you've never been to our office before. At Smile Fitness Dental Centers, you will enjoy the expertise of not one, not two, but four talented dentists who can meet all of your needs.
If you would like to contact us, our team can be reached by calling 602-483-4055 or through our website.