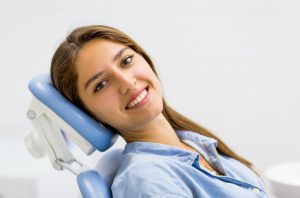 Do you suspect that you need a filling? You might require this treatment if one of your teeth seems extra sensitive lately or you are experiencing other possible symptoms of decay. Even if your teeth aren't bothering you, your dentist might have informed you that you need a filling. Either way, if you have been delaying treatment due to concerns about cost, now is the time to act! Let's talk about how you can take full advantage of your dental benefits in Phoenix and spare yourself from serious dental problems in the future.
How Does Dental Insurance Work?
Dental insurance policies are usually designed to encourage patients to prevent the development of major oral health problems. For example, many plans cover preventive care at 100%. If you aren't sure whether or not you have a cavity, it's likely that you could receive a diagnosis for absolutely nothing out of pocket.
Keep in mind, though, that time is quickly running out for 2021's benefits. If you wait too long to get your checkup, you might not be able to schedule your filling appointment before your current policy expires. Your 2022 policy might have slightly different details than this year's, so acting soon will spare you from having to deal with a brand-new benefits package right away.
If it turns out that you do need a filling in Phoenix, you will probably have to pay something out of pocket. It's common for policies to cover 80% of the cost of fillings after the deductible has been paid. In most cases, that means patients don't end up paying more than a couple hundred dollars for fillings.
What Happens if You Delay Treatment?
What happens if you don't get fillings soon after cavities are diagnosed? Both your wallet and your oral health are likely to suffer. A cavity will not heal on its own. In fact, as more bacteria attack your vulnerable tooth, the cavity is likely to grow bigger and deeper, resulting in a monstrous toothache. And, if a cavity is large enough, your dentist will not be able to address it with a filling.
You might end up requiring root canal therapy and a crown. Extraction is even a possibility. While dental insurance might cover 80% of the cost of a simple extraction, you should also think about the cost of tooth replacement. Most policies cover just 50% of bridges, and they might not cover dental implants at all. If you require root canal therapy and a crown, your insurance might pay for only 50% of the cost of treatment, up to the amount of your plan's annual maximum. Since most policies have an annual maximum of only $1,000 or so, you could end up owing a significant amount of money.
A small cavity might not seem like it requires urgent treatment — but postponing care could cause major damage to your smile and your budget!
Meet the Practice
Smile Fitness Dental Center is proud to provide top-quality, reasonably priced care to the Phoenix community. We are in-network with several major insurance companies, and we work with virtually all out of network PPO policies. If you would like to learn how we can help you use your dental benefits to the full, contact us at 623-849-0477.