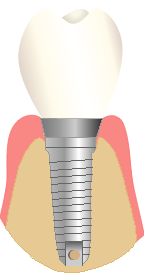 While several fields of dentistry encompass a wide variety of services and treatments, some are much more specialized and define one type of dental procedure. Implant dentistry would fall under this latter category, as it deals solely with the placement and/or restoration of dental implants, which are a relatively new, incredibly durable restorative technique for patients who have lost one or more teeth due to trauma or decay.
Patients who are interested in implant dentistry must first schedule a thorough evaluation with their local dentist, which will include x-rays. This is necessary in order to ensure you are a viable candidate for dental implants. To be able to support dental implants, you must be in good health (especially your gums), as well as have adequate bone structure in your jaw to support them.
In the first stage of the procedure, a titanium post will be placed in your jawbone – whether you require one or more will be determined by how many teeth you're missing.
In the second stage, nature is allowed to take its course. Over a period of time, your natural bone tissue with fuse with the new implants, creating a durable platform for your new smile. Once your dentist has determined that the bond has become strong enough, they will attach your new tooth or teeth, giving you a revitalized smile that looks and feels natural.
Dental implants can used to improve on a number of restorative dental techniques as well, such as bridges and partials. Full dentures often slip or feel uncomfortable when worn, but with the support of implants, they can be stable and secure. In addition, dental implants offers patients restored function and an improved capacity for eating and speaking.
While not every dental practice offers dental implants as a procedural option, your dentists in Glendale and Phoenix have the added benefit of being able to provide all the implant dentistry services you need in their offices, taking you from consultation to completion without you ever having to seek outside treatment. Our offices are here to help restore both your smile and your sense of self-confidence. We also serve patients from the Peoria and West Phoenix areas.